eheat, Inc. - headquartered in Houston, Texas, is a US manufacturer of wall mounted electric panel heaters. In 2002, eheat, Inc. introduced the concept of flat panel, wall-mounted heaters to North America and the response was phenomenal. We are proud to offer an assortment of innovative electric panel heaters and accessories and promise to continue offering you the highest quality products of which the envi heater is just the beginning.
Our Values
We value people not things. We also value the opportunity to provide safe, simple, energy saving products that help people in their daily lives. To that end we aspire to be the best innovators and manufacturers of safe and energy saving heating products in the world. We also strive to provide a completely satisfying customer service experience from the very first contact until all issues are resolved. Our commitment to our customers is in stark contrast to the status quo that society has come to expect from companies who value profit above people.
Our Mission
To be a world class US manufacturer of innovative electrical, wall panel, room heaters, thermostats and air quality products.
2000
Immigrating from Australia, I was inspired by the dream that anyone can succeed in America with hard work and courage. I started selling imported heaters from my living room with our little family as the startup crew. However, serious quality issues arose, putting us out of business. Yet we never gave up on our dream and out of the ashes of failure, the American made envi heater was born. Today, we are giving back by building a premium, energy saving product that is affordable to all Americans!
2002
headquartered just north of Houston, Texas, is an online distributor of wall mounted electric panel heaters and associated accessories. In 2002, eheat, Inc. introduced the concept of flat panel, wall-mounted heaters to North America and the response was phenomenal.
The Econo-Heater (now called the eHeater by its South African manufacturer), is manufactured abroad, and was the first heater we offered to our customers. Today, eheat has no ties to the South African manufacturer, however, we were proud to introduce such an effective heater even with its downsides.
2010
As a distributor, we were always looking to offer our customers the most advanced and revolutionary heating products available. Several years ago, engineers at Conservetec International, our product research and development company, began researching ways to revolutionize the heating industry by creating the next generation, low-wattage, wall-mounted heater. The result is the envi heater, the world's first, and only, 100% pure convection, wall mounted, heater. To learn more about the envi heater, go directly to the envi mini-site www.envi-heat.com or check out the Learn More page. We have also created a video promo that you can watch on youtube.
2012
While the Econo-Heat/eHeater and Eco-Heaters are all made in South Africa, China or India, we are proud that the envi heater is manufactured right here in the USA in a state-of-the-art ISO 9001 certified assembly plant.
When you buy the envi heater, you are not only buying a high quality, safe to use product for you and your family, but you are also helping to provide jobs for Americans.
The envi heater takes the concept, quality, and performance of the Econo-Heater/eHeater/Eco-Heater product to the next level by using new, updated technology. Check out the comparison chart to see the envi's advancements over the Econo-Heat/eHeater and Eco-Heater products.
2015
The envi heater's surface temperature, at 90 degrees, is barely half that of the Econo-Heat/eHeater/Eco-Heater's, and is truly cool-to-the-touch. The envi has a built-in automatic thermal cutoff, which the Econo-Heat/eHeater and Eco-Heaters lacks. The envi is more efficient, from a convection basis, than the others as well, and employs Stack Convection Technology*. The envi prevents heat from escaping into walls at the rear of the unit and up into the attic. It is a 100% pure convection heater that has been increased in power by 50 Watts, enabling it to heat a larger area more quickly.
2019
The envi is also more aesthetically attractive - it is a beautiful product that you will be proud to place anywhere in your home or office. Our customers have been requesting a heater made from 100% hairline crack-resistant materials, and the envi delivers! Finally, the envi features a built in temperature sensing thermostat and a sleep-friendly auto-dimmer function for the on/off power light. The envi is the pinnacle of electric panel heaters, and will be the benchmark of innovation for years to come.
Get Yours Today and Join
200,000+ Satisfied Customers
"We love this slim profile, efficient heater. Installed it in a room that had no heat previously, and it works perfectly and very efficiently. Very easy to install and operate."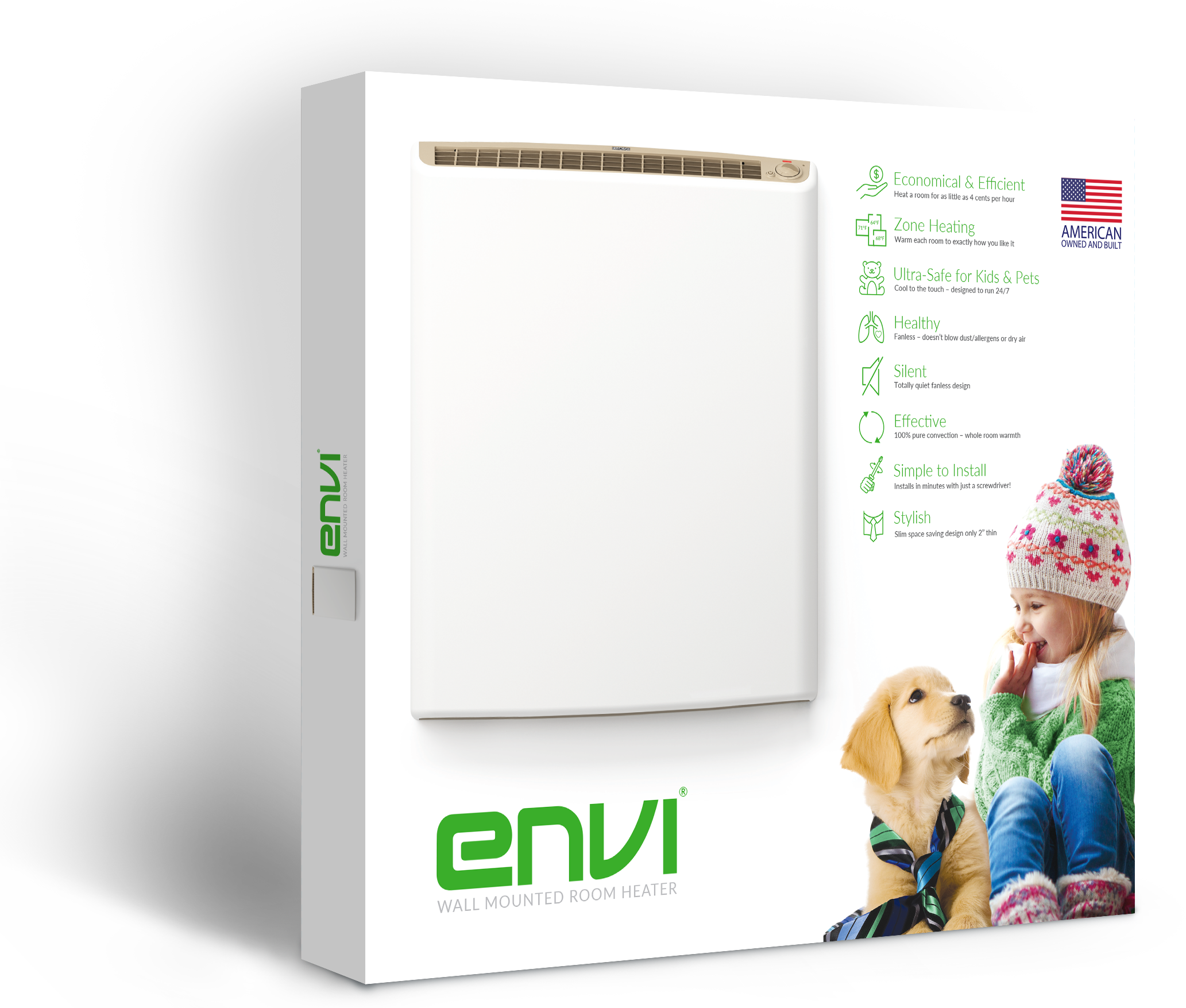 World's Number One Wall Mounted Panel Heater
Get yours today and join the 200,000+ Satisfied Customers
Buy Envi Now