As the leaves start to turn amber and gold, and the days grow shorter, the chill in the air is a constant reminder that winter is coming. The thought of staying indoors and curling up with a good book and a hot cup of cocoa, in the comfort of your home, is more appealing than ever.
But what happens when your favorite reading nook feels like a freezer? Trying to concentrate on the plotline of your favorite book can be challenging when your teeth are chattering, and your fingers feel like icicles.
The truth is, creating a cozy reading nook is not just about choosing the perfect book and comfortable seating. It's also about finding the ideal temperature that allows you to relax and unwind.
However, staying warm throughout the winter months isn't always simple, especially if you're trying to cut back on your heating costs. This is where Envi wall mounted heaters come in helpful, offering a practical way to stay warm and cozy regardless of the weather outside.
But how do you choose the best wall mounted heater for your reading nook? What factors should you consider before making your purchase? And once you have it, how do you ensure that it's used safely and effectively to create the perfect cozy reading nook?
To help you enjoy your favorite books no matter how frigid it is outside, we'll look more closely at how to use a wall mounted heater to create the ideal reading nook in this post.
Installing a Wall-Mounted Heater
Installing a wall-mounted heater is a crucial step in creating a cozy reading nook that will keep you warm and comfortable during those chilly fall and winter months.
For the Envi Heater, it is recommended to install it no more than 8 inches above the floor. This positioning allows for efficient airflow and distribution of heat throughout the room. You can consider installing the Envi heater behind furniture as long as there is a 2-inch gap between the heater and the furniture.
The beauty of the Envi heater lies in its ability to provide gentle and consistent warmth through convection heating. Unlike fan-forced heating, which directs heat towards a specific area, the Envi heater circulates the air in the room, ensuring even warmth throughout. This means you don't necessarily need the heater to be visible from your reading nook for it to be effective. You can discreetly position it behind furniture or in a spot that complements your reading nook's aesthetics while still enjoying its cozy heat.
There are a few considerations to make when installing the heater itself. The Envi Heater, for instance, is designed for easy installation and can be mounted on any wall using the included hardware. Make sure to follow the manufacturer's instructions carefully and securely mount the heater to avoid any accidents or damage.
Furthermore, make sure the heater is plugged into a grounded outlet or connected to a specific electrical circuit. With no chance of overloading the circuit or posing a fire hazard, this will guarantee that it is operating safely and effectively.
By installing one of our Envi wall mounted heaters in the right place and following proper installation guidelines, you'll be on your way to creating a cozy and inviting reading nook that will keep you warm and comfortable all winter long.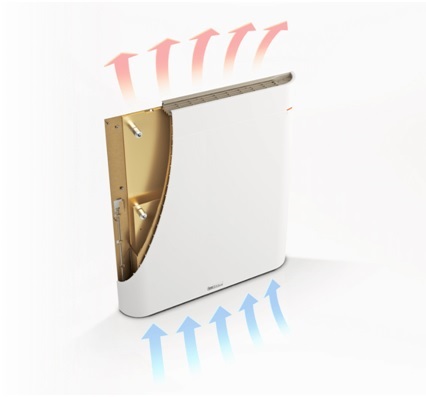 Choosing the Right Wall-Mounted Heater
The size of the room and the heater's heating capability should both be taken into account when selecting a wall mounted heater for your reading nook.
For a small reading nook, a heater with a lower heating capacity may be sufficient. On the other hand, for larger reading nooks, a heater with a higher heating capacity may be necessary.
Setting the Temperature
Once the wall mounted heater is installed, it's time to set the temperature to create the perfect cozy reading nook. Our Envi Heater, for instance, allows you to set the temperature to your desired comfort level.
The Envi Heater is designed with simplicity in mind. It is equipped with a thermostat that offers heat settings ranging from low to high. This allows you to easily adjust the heat output based on your preferences and the size of your reading nook.
For a small reading nook, for example, you can set the Envi Heater to the low heat setting to achieve a comfortable temperature. If you have a larger reading nook, you can adjust the Envi Heater to the high heat setting for increased warmth.
Using a Timer
A timer is an excellent addition to any wall mounted heater. By setting the timer, you can ensure that your reading nook is warm and cozy when you need it to be.
For example, you could set the timer to turn the heater on an hour before you plan to start reading, so your reading nook is warm and inviting when you sit down with your book.
Adding Comfortable Seating
To create the perfect cozy reading nook, it's important to have comfortable seating. A comfortable armchair or loveseat can make all the difference in creating a cozy atmosphere. Add soft, plush pillows and a cozy throw blanket to complete the look.
Decorating the Space
Finally, to create a cozy reading nook, it's important to decorate the space. Consider adding a bookshelf or a side table to hold your reading materials and a warm lamp to create a soft, inviting glow. A rug or floor cushion can also add to the cozy atmosphere of your reading nook.
In conclusion, a wall mounted heater can be a fantastic addition to your cozy reading nook. By choosing the right wall mounted heater, setting the temperature, using a timer, adding comfortable seating, and decorating the space, you can create a warm and inviting space to curl up with your favorite book.
With wall mounted heaters like the Envi Heater available here at eheat.com, creating a cozy reading nook has never been easier.