PT300 Plug-in Thermostat
PT300 Plug-in Thermostat

Works as advertised.

Thermostat

No thermostat is extremely easy to use and brings the wall heater a step up. Definitely recommend it.

Thermostat

If you are considering buying an eheat wall heater with the plug in cord, getting the PT300 thermostat I highly recommend. It adds to the efficiency in the way the heater works.

Envy Plug-In wall heater with plug-in thermostat

I purchase the envy wall plug - in heater along with the plug-in thermostat. The two together offer a perfect no-touch heat solution. The HVAC system failed that heated the apartment above my barn. I installed an envy heater in each room instead of replacing the very expense HVAC system. The renter couldn't be happier.

PT300 Plug-in Thermostat

This thermostat works extremely well. We have 4 Envi heaters and all of them operate on these thermostats. As a result they accurately maintain the desired temperatures for the spaces they're in. I was never able to satisfactorily regulate the temperature with the thermostat built into the heaters but the plug-in does the trick. Perfect solution.

Thermostat

I have 3 thermostats and Envi heaters in use in the lower level of our house... the thermostats work really well in keeping the rooms comfortable without overworking the heaters... a great assist to the main gas furnace

Envi 120v Plug-in Panel Wall Heater

This is the third wall heater that we have purchased. We planned on using it in a downstairs bedroom but our daughter was interested in getting one for the front entrance to her small home. We decided to gift this one to her and she is extremely pleased with how it warms up her unheated entryway. We placed heaters in our unheated office, master bathroom and also put our original heater in the unheated sunroom where our cat sleeps. They are a great addition to our heating system that is partially fueled by new solar panels. This month's energy bill was slightly over $14 for a 5,000 sq. ft house.

A better option would be a wall mount at eye height. Not sure how to do because of need to plug in and plug the device to it. Time for bluetooth connection to the heater. Allthat being said the unit as is does what is expected and I have had ze

see above

Great product

I purchased this so my heater would shut off at a programmed desired temperature and it meet all my expectations.. thank you for making such a great product
Shipping:
Free Shipping
UPC:

Weight:

1.00 LBS

Shipping:

Calculated at Checkout
FREE SHIPPING

30-DAY MONEYBACK GUARANTEE

3-YEAR WARRANTY*

*selected heaters only
Description
PT300 5-2 DAY HEATING & COOLING PROGRAMMABLE PLUG-IN THERMOSTAT FOR 120 VOLT OUTLETS
The PT300 (PSP300) is designed for our envi wall mounted heaters. Rated for 120 Volt, 15 Amps, 1800 Watts this easy to use thermostat is capable of controlling the 475 watt, envi wall mounted heater. The PT300 installs in seconds and is ready to use right out of the box! No wiring is required simply plug the PT300 into any 120 Volt wall outlet, plug your envi wall mounted heater into the outlet located on the front of the PT300, and you are ready to go.
Features:
Clean, Attractive Design
Easy-to-Use Speed Dial
Energy Star Compliant
ETL Safety Approved
Vertical Orientation
Setting Range 45°F to 90°F (7°C to 32°C)
F/C Selectable
Temporary Temperature Override
Manual Hold
12 Hour Clock Only
User Temperature Calibration
Adjustable Temperature Differential/Cycle Rate
Mode Slide Switch
Positive On/Off Switch
120VAC Outlet Powered
2 G13A Size 1.5V Alkaline Batteries Included(for clock only)
Battery Free Memory Storage
5 Minute Compressor Delay
Time and Temperature Alternate in Display
On-Screen Low Battery Indicator
Soft Touch Buttons
How It
Works
The Envi Heater's innovative dual-stack design was born out of years of research and development. The results revealed that the most effective way to heat a room with the least amount of energy is by heating the air in a room using 100% natural convection.
The Envi Heater's inner chambers feature simulated "stacks" of varying height, which boost airflow through the unit to maximize heat transfer. The end result of this technology is enhanced airflow and safe air temperature, all without the use of a fan!
BUY ENVI NOW
See How Easy the Envi Wall Mounted
Panel Heater is to Install Yourself
Worried about paying to get a contractor to install your new Envi wall heater? Think again. Jason Cameron explains how the Envi wall heater is designed to be installed and set up at home by yourself in just 10 minutes or less.
BUY ENVI NOW
Get Yours Today and Join
200,000+ Satisfied Customers
"We love this slim profile, efficient heater. Installed it in a room that had no heat previously, and it works perfectly and very efficiently. Very easy to install and operate."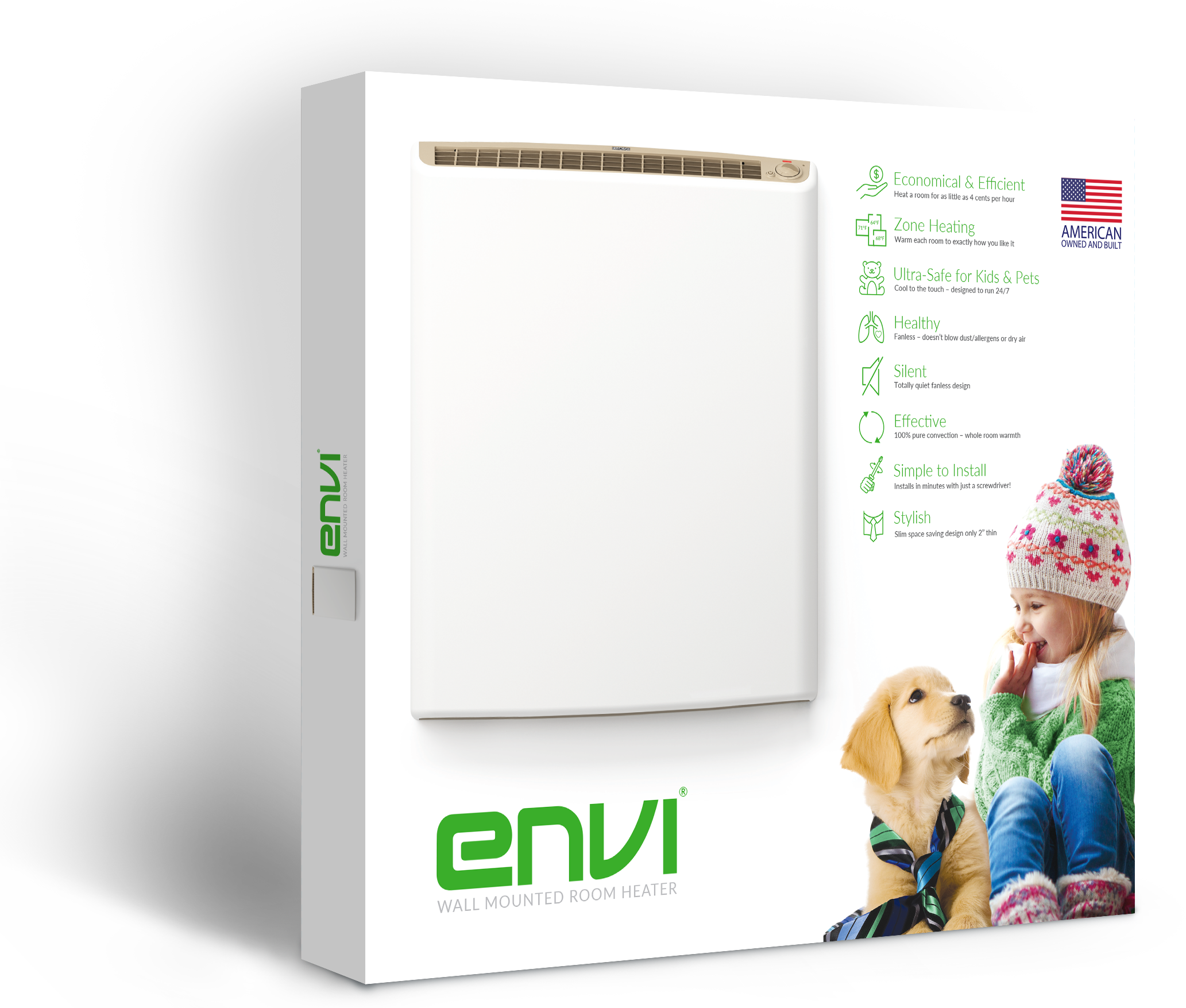 World's Number One Wall Mounted Panel Heater
Get yours today and join the 200,000+ Satisfied Customers
BUY ENVI NOW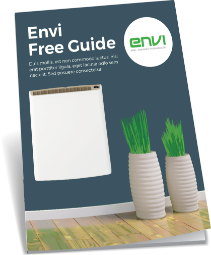 Download this envi PDF Guide for free!